BELVOIR CASTLE,
GRANTHAM - by Jason Dawe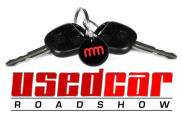 Show Penny something with a roll cage and a couple of spotlights and she just can't keep her hand off it! This week's buyer Keith Coleman made the slightly foolish decision to bring his rather lovely old Volvo rally car along to the show and Penny had the keys off him quicker than a Premiership footballer accepts an invite to the Playboy mansion. Of course being a gentleman and all that I had to hop in next to Penny to make sure she was alright with the controls, ahem, and so spent the next 10 minutes travelling sideways around a muddy field, marvellous!
But it wasn't all fun and frivolity; Penny and I had to find Keith a suitably robust estate car with which to tow the Volvo rally car around the country. Knowing he liked his Volvo's I had to find one to put on the list and I also came up with a couple of very large beasts of burden that looked equally good value on the day. Find out which one he liked the most.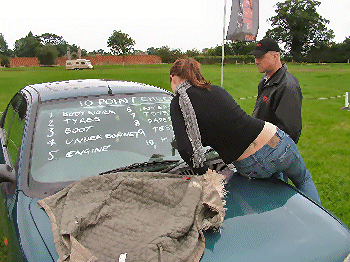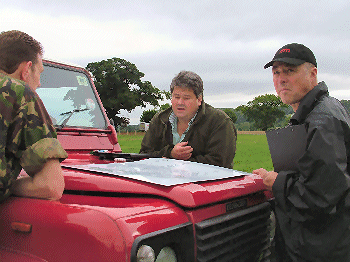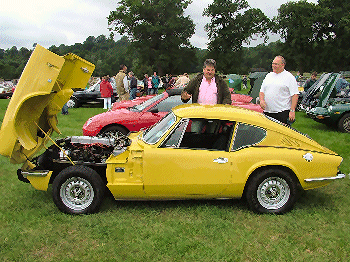 As usual I fell in love with another car on the day, a very chunky looking BMW X5 with that lovely 4.4 litre V8. The only thing between it and me was the price tag of around £20,000 which although very reasonable for what you get for the money was a touch rich for my blood.
Penny and I also uncovered a bit of a bargain in the shape of a new shape Mini Cooper that was actually sold over the phone whilst we were on camera filming it!
As ever I have to say that we had a real ball filming the show, despite the rather changeable weather every one kept smiling and we were very grateful to all of you who turned up to see the show being shot live.
All in all a very fun day and again we were lucky enough to be surrounded by some great classic cars that had ventured out in the wind and rain to celebrate the joys of British summer motoring!
THIS EPISODE'S WEB LINKS:- To find out more about some of the great cars featured on the show;
Vauxhall Omega Estate came courtesy of www.martynmanshipcarsltd.co.uk
Audi A6 testate came courtesy of www.powermotors.co.uk
Volvo V70 SE came courtesy of www.leicestershirecarsales.co.uk
A nicer bunch of Mini enthusiasts you couldn't wish to meet, the Trent Valley Mini Owners Club www.trentvalleymoc.co.uk
I loved this Vauxhall but Penny was rather luke warm, still it was my teenage kick not hers Vauxhall Convertible Car Club http://www.vccc.org.uk
The UK's national Austin Healy Club – with links to the UK club centers www.austin-healey-club.com
East Yorkshire Classic Car Club http://eastyorksclassic.com
As a former member of the TSSC I was delighted to meet some current owners Triumph Sports Six Club www.tssc.org.uk
Get those nasty little dings sorted by visiting Direct Dents www.direct-dents.com
Waterside Car Sales – Wakefield 01924 291707
AS Pickering – interior trim modifications www.aspickering.co.uk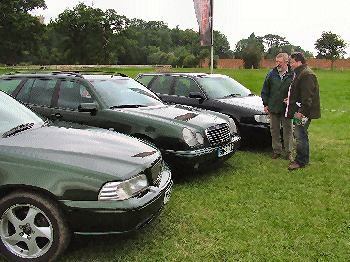 Standish, our production assistant, writes a 10 point check list
Triumph GT6 was in breathtaking condition
A tempting line up for our buyer Keith
Jason helps seller write the perfect ad